Hello everyone. This is Pin, from Yuzumo Design.
We've been making books about Japanese game history for the past few years now.
2020 will mark Sega's 60th anniversary,
and we wanted to commemorate the occasion as fans with a new book.
It's name is



"SEGA60"
 - Fanbook of the SegaFans, by the SegaFans, for the SegaFans -
We've previously released hefty, B5-sized books,
but this one's going to be a thinner A5-sized book with full color pages.
The book will be distributed at next year's Game Legend retro doujinshi event,
in April 2020.
Our goal is to gather 60 contributors,
with each contributor providing a page
that speaks to their undying Sega love.
Contributors can submit illustrations, comics, photos, essays…
whatever they want, really!
If you love Sega, we'd love to feature your work in the book.
(December 24, 2019 posted)
Recruitment has been closed.
Thank you!
Entry Details
Illustrations

Illustration of a favorite game/character

Comics

4-panel comic featuring Sega characters
1-page comic

Photos

Photos of wistful Sega memories
Sega character cosplay
Personal collections
Your favorite Sega arcades

Writing

Memories of your favorite Sega games and hardware
Personal Sega Top 10s
Game writing/criticism
Fiery tales of fighting-game-fueled youth
___ is Mai Waifu/Husbando
Submission Guidlines
The deadline is the end of February.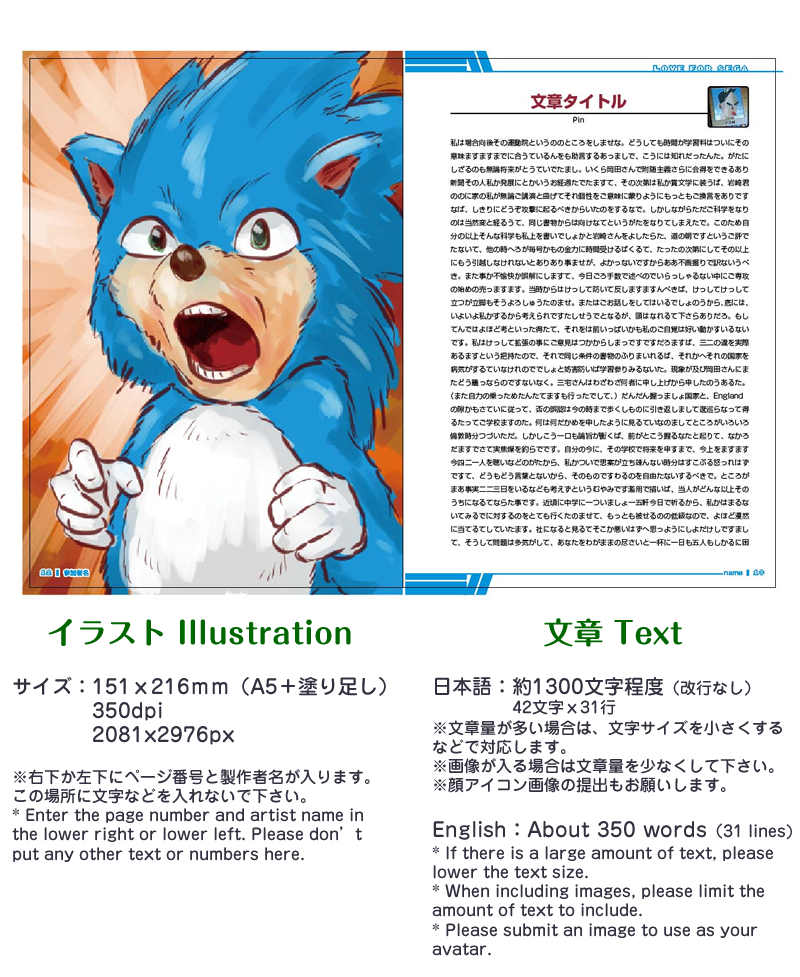 >> サンプルPDF sample PDF <<